Last update:April 3 2017



Akajima Marine Science Laboratory (AMSL) :
179 Aka, Zamamison, Okinawa, 901-3311 JAPAN
Phone.+81-98-987-2304
Fax.+81-98-987-2875

Establishment of Tropical Marine Ecological Research (ETMER) :
1-26-2 Nishi-Gotanda, Shinagawa, Tokyo, 141-0031 JAPAN
Phone +81-3-3490-7266
Fax +81-3-3490-8278



(C)2001- Akajima Marine Science Laboratory, All rights reserved.
● 慶良間のサンゴは白化で死んだのか?
-2016年の白化のその後-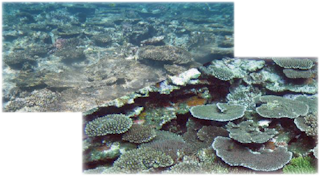 新年あけましておめでとうございます。暖かい正月でした。経験的には、11月上旬か下旬に寒波がやってきて、その後年末ごろには少しもち直して、いくらか暖かい正月をむかえるということが多いのですが、今年の正月は特に暖かかったようです。研究所に気温のデータの残っている1989年から今年2017年の正月三が日(1月1日~3日)の・・・

AMSL, with the successful invention of the mass culture of corals from egg to colony in open water, is proud to have the world's first technique of this kind. In November 2005, the coral seedlings were transplanted in Majya-beach, and they have continued to grow to the pleasing size of 27cm today.